Urban Workshop
The Urban Workshop distinguishes Kaleo from other ministries. The Urban Workshop is an integral piece in informing and equipping our members to serve the women and children of our city.
Our desire is that the hearts and minds of participants will be transformed. Those of us who have not grown up in the inner city typically have: different worldviews from those in urban areas, dissimilar slang and language, unalike expectations, and truly unrelated cultures. Through Kaleo's Urban Workshop we hope to reduce the learning curve, create greater sustainability and fruitfulness of service, prepare women with willing hearts to be effective workers in God's Kingdom, leverage the learning of those who have already been working effectively in this arena, and employ best practices in serving.
The instructors, Dr. Amy Sherman of Charlottesville, Virginia, and Tim Streett, of Indianapolis and currently attending seminary in Louisville, are nationally recognized experts in the fields of ministry to the poor, effective urban ministry, and racial reconciliation and forgiveness.
Participation in the Urban Workshop is not a requirement for Kaleo membership. Those who do commit to the class are strongly encouraged to attend all eight sessions.
The Urban Workshop consists of eight units which are taught in an interactive forum over a three-hour period one Thursday per month from September through May. During each session twenty-five to thirty women attendees also enjoy lunch together and have time for fellowship.
Course Overview:
Unit 1      Kingdom Theology
Unit 2      The City 101 and Bus Tour
Unit 3      Mental Models and Key Points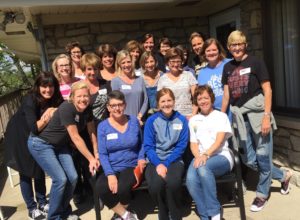 Unit 4      Resources and Hidden Rules of Class
Unit 5      Language and City Leader Panel Discussion
Unit 6      What Is Effective Ministry to the Poor?
Unit 7      Vocational Stewardship
Unit 8      Solomon's Porch
To download a pdf of our Membership Participation Form, click here.
To download a pdf of the 2017-18 calendar, click here.
For any other questions please contact us at communications@kaleoindy.org.